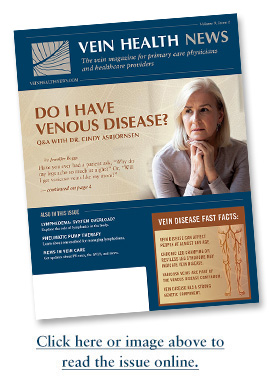 IN THIS ISSUE
ATHLETES AND VEINS
Active people often attribute leg pain to strained muscles—but what about venous disease?

CAN COMPRESSION RAISE YOUR GAME?
We consider the benefits of athletic compression before, during, and after exercise.

ATHLETES VS. BLOOD CLOTS
Athletes can still be susceptible to—and, in some cases, at greater risk for—DVT and PE.

ONE PATIENT'S PERSPECTIVE
A swimmer receives unexpected results after having EVLA on both legs.

VEIN TECH
Asclera is a liquid substance used in sclerotherapy procedures for spider veins.
Subscribe to Vein Health News

ADDITIONAL VEIN HEALTHCARE RESOURCES