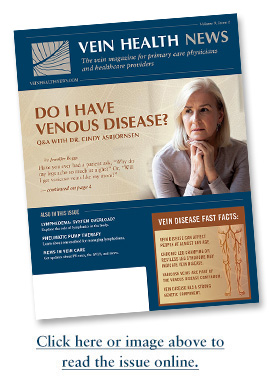 IN THIS ISSUE
HEALTHY STYLE: COMPRESSION STEPS UP
Graduated compression stockings become more wearable, and even stylish.
TREATING VEIN SYMPTOMS, NATURALLY
Alternative options grow for preventing, treating, and stemming the progression of vein disease.
ONE PATIENT'S PERSPECTIVE
An active 53-year old woman finds fast results for her leg cramps and fatigue.
VEIN TECH
Arnicare, a topical nutraceutical, helps reduce bruising after vein procedures.
COMPRESSION ESSENTIALS
We review the basics of gradient compression.
MORE THAN JUST STOCKINGS
The International Compression Club furthers understanding of the role of compression in medicine.

Subscribe to Vein Health News
ADDITIONAL VEIN HEALTHCARE RESOURCES