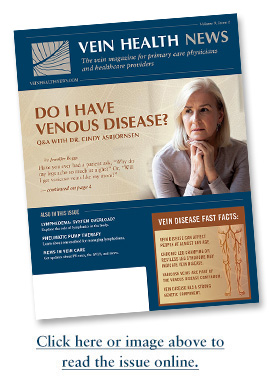 IN THIS ISSUE
MUTUALLY INTERDEPENDENT - A new perspective on
lymphedema gains traction across medical specialties.
NAME CHANGE - The American Board of Phlebology changes its name.
TRIBUTE - Dr. Asbjornsen pays tribute to Dr. John Bergan, one of the leaders in modern phlebology.
VARITHENA - An injectable proprietary foam uses standardized bubbles to make sclerotherapy safer.
"FAVQ"- Dr. Cindy Asbjornsen shares the outcome of a patient with a prominent vein in her foot.
ONE PATIENT'S PERSPECTIVE - A man with a family history of lymphedema is proactive about his vein health.

Subscribe to Vein Health News
ADDITIONAL VEIN HEALTHCARE RESOURCES