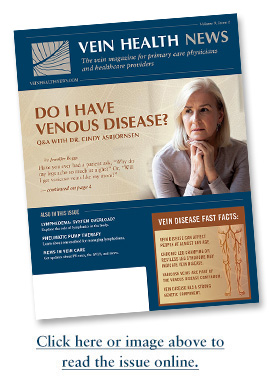 IN THIS ISSUE
VEINS & FEET - There is a direct connection between veins and feet— and the specialists who treat both.
RETHINK VARICOSE VEINS - The APMA is just one of the medical groups raising awareness about varicose veins.
VEIN CARE & INSURANCE - A professional offers a primer on billing in phlebology.
"FAVQ"- Dr. Cindy Asbjornsen answers frequently asked vein questions.
ONE PATIENT'S PERSPECTIVE - An engineer finds that vein treatment also resolves the pain in his feet.
VEIN TECH - The ScleroTrainer™ allows clinicians to practice their sclerotherapy skills.

Subscribe to Vein Health News
ADDITIONAL VEIN HEALTHCARE RESOURCES