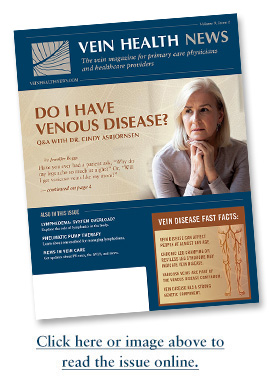 VEIN HEALTH NEWS: SPRING
IN THIS ISSUE
DVT TREATMENT - Learn what to look for when diagnosing a DVT, plus one treatment with promising results.

ATTRACT TRIAL CRITERIA - See the full inclusion and exclusion criteria for the ATTRACT study.
PATIENT COMMUNICATION - See how honesty and candor can improve patient care.
ONE PATIENT'S PERSPECTIVE - Treatment for venous insufficiency comes as a surprise and relief to a long-time blood clot sufferer.
"FAVQ" - Dr. Cindy Asbjornsen answers frequently asked vein questions.
VEIN TECH - Ezy-As helps patients with the sometimes-difficult task of donning
compression stockings.


ADDITIONAL VEIN HEALTHCARE RESOURCES