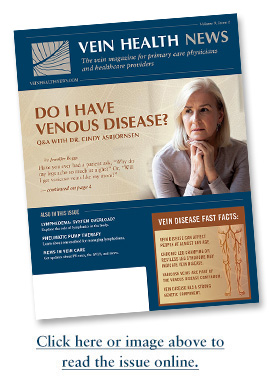 Vein Health News: Summer
IN THIS ISSUE
WOMEN & VEINS - Gender can be a risk factor for venous disease.

VARICOSE VEINS DURING PREGNANCY - Learn how to prevent or minimize varicose veins during pregnancy.
FINDING BALANCE - Marcelle Pick explains how diet and lifestyle can reduce inflammation and improve women's health.
"FAVQ" - Dr. Cindy Asbjornsen answers a frequently asked vein question.
ONE PATIENT'S PERSPECTIVE - A mother and daughter both suffer from vein issues— and benefit from treatment.
VEIN TECH - Vasculera, a new medical food on the market, helps manage chronic venous insufficiency.


ADDITIONAL VEIN HEALTHCARE RESOURCES